Emotions at the Emmys
On the 16th July, agencies around the globe held their breath as the five nominees for the Outstanding Commercial category at the Emmys were unveiled.
Nike's Dream Crazy was an obvious contender but there were still a few surprises. The five nominees are as follows:
We've run all five nominees through our emotional testing and targeting tool, UnrulyEQ, to find what sets them apart as a cut above the rest.
A sense of purpose
The first thing to note about this year's nominees is that most of them are heavily focussed on issues of environmental and social justice. It's no wonder then, that the two emotions that run through all five nominees are Amazement and Inspiration. Dream Crazy scored highest for Inspiration at 20% (15% more than the norm), and Don't Mess with Mother scored highest for Amazement at 20% (again, scoring 15% higher than the norm).
"Usually, when we test ads for emotions, they are slightly above or below the emotional norms, the fact that both of these ads are 15% over the norm indicates that they really hit home in wowing audiences and driving an intense emotional response amongst viewers." – Terence Scroope, Insight & Solutions Director, US, Unruly.
Another interesting thing to note is that all the ads apart from Point of View were inline with the market norm for Happiness, which is the highest norm across all positive emotions. This means that Happiness is the easiest emotion to evoke, so the fact that these ads gave such strong results for Inspiration, Amazement and Warmth, to name but a few, have made these videos really stand out from the crowd.
Three of the ads then went on to over-index on another emotion, Dream Crazy for Inspiration, Don't Mess with Mother for Inspiration and A Great Day for Pride. Achieving a standard level for Happiness and then going big on another emotion really seemed to work for these three ads. Behind the Mac, on the other hand, seems to be an exception to the rule. It didn't score highly for any emotion, with it's highest being Inspiration at 7% (2% over the norm).
The key emotion for Nike's Dream Crazy and Netflix's A Great Day in Hollywood was Inspiration. What sets these two adverts apart is that they use narration throughout the video, allowing viewers to engage and connect to the video on another level. They are both very relatable and talk about being yourself and fighting against stereotypes.
"Both Apple videos incorporated their products into their videos, either physically, as in Behind the Mac or showing how they work in Don't Mess with Mother. This allowed for high brand recall and meant that viewers relate their positive emotions back to the brand." – Terence Scroope
Sandy Hook's Point of View was below-norm for all emotional responses except for Sadness, where a third of viewers stated that the video made them feel intensely sad. Although the majority of the video is seemingly 'normal', the final 30 seconds were enough to drive a powerful response amongst viewers.
Shock and Surprise
While emotional responses are important, driving cognitive responses like Shock and Surprise can also have a powerful effect. Nike's Dream Crazy and Netflix's A Great Day in Hollywood both evoked noticeable Surprise and some Shock, it is likely that people were caught unexpected by such powerful adverts and enjoyed learning about something they may not normally hear about.
Apple's Don't Mess with Mother evoked high levels of Surprise and Shock due to the intense and incredible cinematography shown. In comparison, Behind the Mac evoked a low amount of both Surprise and Shock due to the repetitive nature of each scene and the continuous product placement, which together make the video a bit underwhelming.
Of course, extremely high levels of Surprise and especially Shock were felt towards Sandy Hook's Point of View. The dramatic and unexpected final scene completely took viewers by surprise, leaving them with a reverberating feeling of astonishment.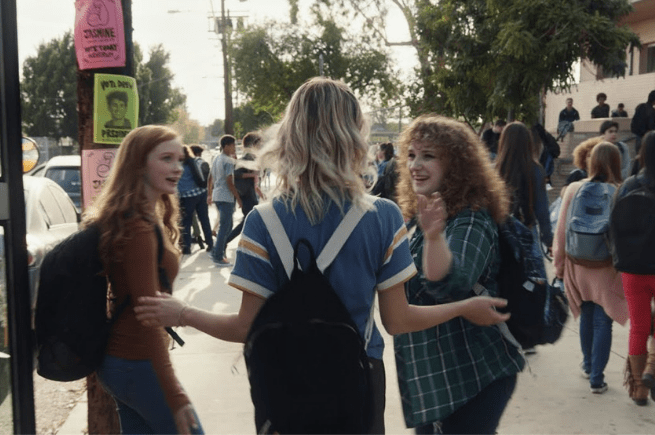 Does an Emmy equal brand success?
Apart from Point of View, all nominees scored well above average for brand awareness, with Netflix's A Great Day in Hollywood coming in at 58%, both of Apple's ads scoring 54%, and Dream Crazy toping the pile at 65%.
Looking at the ads from Netflix, Apple and Nike, they scored a combined average of 58% for brand awareness. "It's really interesting to see the different tactics that these ads use to build brand recall. Dream Crazy features Nike products throughout which help to build a lasting memory of the brand, Behind the Mac does the same by having Macs on-screen throughout the video, and Netflix uses a combination of actors during the ad who are linked to the Netflix brand, and has the Netflix logo on screen all the way through." – Terence Scroope
Point of View only displayed the organisation's logo briefly at the end of the ad, and correspondingly scored quite low on brand recognition. It's also possible it was overshadowed by the familiarity of the Sandy Hook name.
Apple's Mother is the exception to the rule and if this was a one-off ad we'd expect the brand recall score to be much lower. However, we believe that because this is part of a much larger campaign that's been running for a number of years, viewers are used to seeing these types of ads come from Apple and are more likely to associate the brand with this type of creative.
To find out more about our emotional testing and targeting tool, UnrulyEQ, head here, or get in touch for a live demonstration.