Announcing London's Trust Talks: The Great Programmatic Debate panels
On 6 November we kick off our next Trust Talks event in London. On a scale of 1-10, how excited are we to bring this event back to the UK? We reckon about 15! This edition of Trust Talks is focused on all things programmatic!
The programmatic advertising ecosystem can be a confusing place – so full of acronyms, vendors and platforms that it can be hard to know who (and what) you can trust. The issues of brand safety have dominated the headlines in recent times, and this is only becoming more of a concern as programmatic buying continues to scale.
In light of this we decided it was time to bring influential figures within the programmatic sphere in the UK together under one roof for the morning to discuss the problems and opportunities that programmatic is facing, and how we can work together as an industry to either solve or embrace them.
We will be hosting a number of panels throughout the morning to discuss and tackle some of the most prevalent issues and questions being asked across the programmatic model. Take a look below to find out who will be speaking, and what each panel will cover.
Trust Talks: The Great Programmatic Debate will be live streaming via the Unruly Facebook page from 9-12 on Tuesday 5th November!
09:10 – 09:40: Adtech 2018 – impressions from the sell side
Moderated by Ronan Shields, Ad Tech Reporter, Adweek. This panel will address the issues and opportunities facing premium publishers in 2018. From the rise of initiatives such as ITP from Safari restricting ad opportunities on mWeb, right through to the complex landscape of unified yield management, also known as header bidding. The panel will discuss life post-GDPR, the rise of 2nd party data marketplaces, and why publisher coalitions are so hot right now.
Speakers:
Dora Michail, MD Digital Telegraph

Steph Miller, Head of Sales & Marketing Services, Zoopla

Danny Spears, Programmatic Director, The Guardian

Lauren Dick – Head of Emerging Platforms, Mail Online
09:45 – 10:15: Identity, the quest for an open & alternative ID continues
Moderated by Paul Gubbins, Programmatic Lead, Unruly. This panel looks at where we are as an industry in the quest for an alternative and open ID. They will challenge the idea that life post-cookie will challenge visibility for both buyers and sellers, unless they operate within walled gardens. The panel will also explore ID portability, and how initiatives from bodies such as the IAB Tech Lab will tackle areas of concern such as digital ID management, privacy legislation and the explosive growth of connected devices.
Speakers:
Nigel Gilbert – Chief Market Strategist, AppNexus EMEA, A Xandr Company

Shane Shevlin – SVP Strategic Development, IPONWEB

Matt Simpson – Joint CEO Investment Omnicom

Morwenna Beales, VP ID5
10:35 – 11:05: Exchanging views, thoughts from the buy side
Moderated by Vincent Flood, Editor, Video Ad News. This panel will discuss in detail the ever-changing programmatic landscape and look at best practice examples from those on the buy side. it will address topics such as auction mechanics like bid caching and shading, releases such as ITP from Safari, and the emergence of new transaction models such as programmatic guaranteed. This panel will also discuss preferences for 1st versus 2nd price auctions, and how initiatives such as ads.txt have changed the way traders buy.
Speakers:
Matt Bushby, Head of Programmatic, MediaCom

Charlie Glyn – Head of Programmatic, Havas Media Group

Simon Harris – Head of Programmatic, Activation Dentsu Aegis

Emily Macdonald – SVP Precision EMEA, Publicis Media
11:10 – 11:40: Why emotions matter in an age of automated advertising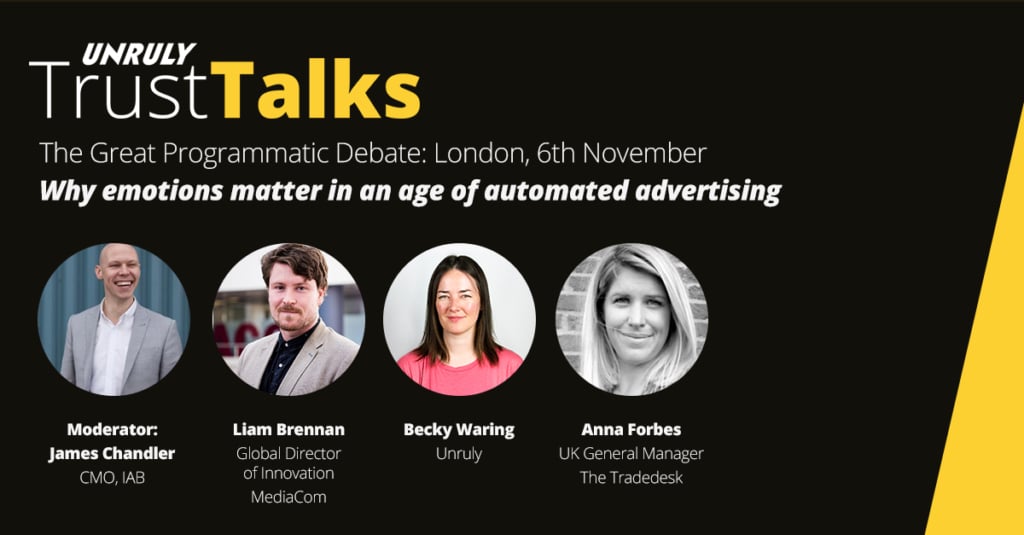 Moderated by James Chandler – CMO, IAB. This panel will focus on how marketers are showing an increasing appetite to understand the connection between consumer emotions and digital advertising.
Post-GDPR, and pre full roll out of the CCPA, dependencies on 3rd party data sets have been wound down. Marketers and agencies are now looking for signals familiar from traditional advertising buys, but that are often overlooked in programmatic. Featuring pioneering insight from UnrulyEQ, this panel will discuss the rise of AI and what using traditional targeting methods via modern programmatic technology actually means for those on both the buy and sell sides.
Speakers:
Liam Brennan, Global Director of Innovation, MediaCom

Becky Waring, VP Insight, UnrulyEQ

Anna Forbes, UK general Manager, The Trade desk
11:40 – 12:00: Closing remarks and refreshments
Trust Talks: The Great Programmatic Debate will be live streaming via the Unruly Facebook page from 9-12 on Tuesday 5th November!