Super Bowl Ads Less Likely To Engage Millennials, Says New Report
Hyundai's "A Better Super Bowl" Was The Most Effective Ad; Coca-Cola's "It's Beautiful" In Second Place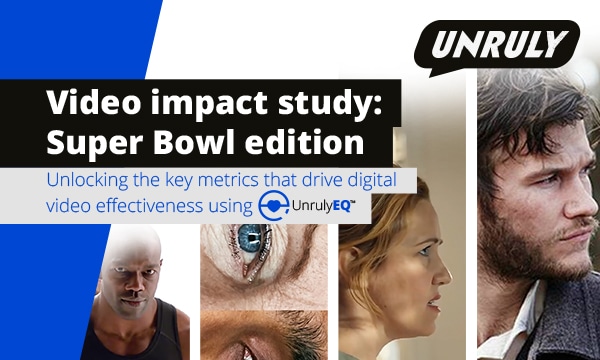 NEW YORK – April 19, 2017 – This year's Super Bowl ads were less likely to connect with younger audiences than older ones, according to a new report released today by video ad tech company Unruly.
Unruly's Video Impact Study reveals that Super Bowl 2017 advertisers were more likely to engage older audiences, with average scores from its content testing tool Unruly EQ – which analyzes ads' emotional, social and business impact – 16% higher on average than those recorded by younger viewers (18-34).
Average EQ scores, which are comprised of emotional impact (-5%), brand favorability (-19%), authenticity (-5%) and purchase intent (-21%), were also 29% lower than the US millennial average.
Additional findings from the report, which also looks at the key trends at Super Bowl 2017 and the ads which had the biggest impact, include:
Hyundai's "A Better Super Bowl"

was the most effective ad from this year's Super Bowl. The autos brand's commercial finished at the top of the Super Bowl edition of Unruly's Ad Effectiveness Chart with an EQ score of 6.1 out of 10, ahead of Coca-Cola's "It's Beautiful" in second place with 5.9.

Advertisers incorporated a wider range of emotions, with warmth (+50%) and pride (+125%) more prevalent than in 2016;

Ads from Super Bowl 2017 attracted the fewest number of shares since Super Bowl 2011;

Engagement was lopsided, with 5 ads taking more than half of overall online shares, despite 134 total creatives airing during the Big Game;

Viewers recall fell 15% below the US average, though ads from Tide and Mr. Clean were able to achieve the highest recall at 84% and 82% respectively;

Almost a third (32%) of the ads released for Super Bowl 2017 were teaser campaigns. However, teasers only attracted 7% of the total number of shares.
Devra Prywes, SVP Insight and Marketing, Unruly, said: "With many brands already starting to plan their strategy for Super Bowl 2018, it's important to remember that while the Super Bowl is the biggest TV event, a complementary online strategy is necessary to make an advertising touchdown. Testing your creative and launching a coordinated digital campaign next year can help to attract those viewers who aren't as likely to tune into the Big Game."
The survey is based on responses from 1,500 panelists using Unruly EQ, the company's content evaluation tool that helps advertisers maximize the emotional and business impact of an ad. The report also uses Affectiva's Emotion AI facial tracking tool to identify the attention spent while watching the ads tested.
Super Bowl 2018 will be held on February 4, 2018 in Minneapolis, Minnesota.
About Unruly
Unruly gets videos seen, shared and loved across the open web for brands that want to move people, not just reach people.By bringing emotional intelligence to digital advertising, we help 91% of Ad Age 100 brands inform and inspire 1.44bn people around the world, using polite outstream formats on sites that people love. UnrulyX, the viewable video SSP, creates better ad experiences for consumers, improved brand outcomes for advertisers and increased revenues for top-flight publishers.
Emotion matters in marketing. Emotion creates values and sets preferences. Inspires action. Drives sales. Unruly has a decade's data of consumer responses to video and uses that to hone content, model audiences and deploy ad dollars in ways that heighten emotional response and maximise brand impact. Unruly was founded in 2006 and acquired by News Corp (NASDAQ: NWS, NWSA; ASX: NWS, NWSLV) in 2015. With 300 Unrulies across 20 locations worldwide, our super power is emotional intelligence and our secret weapon is passionate people on a mission to #DeliverWow.