Why do so many brands choose to evoke happiness in ads?
Since the dawn of advertising, brands have sought to evoke happiness in ads to help them to persuade people to buy certain goods and services.
In the HBO show MadMen, set during the boom of the ad industry in the 1960s, Don Draper famously said "advertising is based on one thing – happiness". According to the analysis of our emotional data sets, this statement still rings true today.
"Happiness is not something ready made. It comes from your own actions." – Dalai Lama XIV
Making the world a happier place
In 2017, Max Roser, Economist at the University of Oxford stated that "the world has more reasons to be happier than ever before. In almost every way: poverty, literacy, health, freedom, and education are improving". This trend is reflected in the world of advertising, as our research shows that last year, the percentage of companies evoking happiness in ads rose from 7% to 12%. This trend looks set to continue as we carry on into 2019.
In the west, Christmas is seen as one of the happiest times of the year. It's no surprise then that this is when we some of the world's biggest brands invest in their advertising efforts. If we take at the UK department store John Lewis as an example, every year they release a blockbuster advert which, with the help of YouTube, has become highly anticipated across the globe. We recently looked back at the past three years of John Lewis ads and happiness scored in the top three emotions for all three ads.
This trend also extends to the wider advertising industry during Christmas. Looking at the overall emotional profile of Christmas in the UK during 2015, 2016 and 2017, happiness scored the highest overall three years.
Evoking happiness in ads is not just a trend that holds true in the west. Across the globe, brands use happiness to sell all sorts of products and services. According to our cultural emotional data sets, evoking happiness in ads works best in India with a prevalence score of 29%. This is closely followed by Mexico with 25%, and then Brazil with 19%.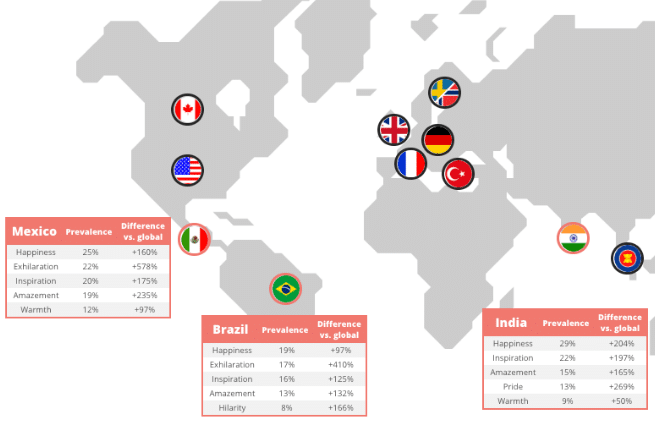 What was 2018's happiest ad?
According to our data, last year's happiest ad came from Samsung and was distributed in the Philippines. 'Be Together' shows different Samsung devices being used to connect friends and families at (you guessed it) Christmas time. The ad continues a well-worn tradition of using emotional covers of popular hits (in this case a reworking of Keane's 'Somewhere only we know') and features a diverse mix of characters and locations.
In the Philippine market, the ad indexed an emotional response of 42% Happiness (making it one of the highest scoring ads in any market for the entire year) and 30% Warmth. This compares to local norms of 28% Happiness and 14% Warmth.
This combination of strong positive emotions carried forward into impressive key metrics. They outperformed local market norms in every category: including the all-important Purchase Intent and Brand Favorability.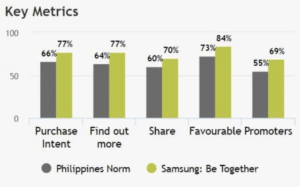 Why is happiness on the rise?
"Our emotional data continues to confirm that Happiness is the most evoked emotion used in ads by brands and advertisers. In many cases, this is a key driver in the growth of purchase intent, discovery and shareability.
"After surveying almost half a million respondents in 2018, the prevalence of positives across the ads we've tested has grown too. Happiness is up from 7% to 12%; Amazement 4 to 7% and Warmth from 5 to 6%. There's a huge opportunity for brands to give people what they want and lift the mood of the world as we continue into 2019." – Rebecca Waring, VP, Insight & Solutions, UnrulyEQ.
As stressed by Lee and Sirgy (2004), marketing strategies that contribute to consumers' happiness are expected to result in customer trust and commitment and, ultimately, in company goodwill. This has been shown time and time again by global brands. When thinking about happiness in ads, one obvious brand that comes to mind is Coca-Cola. Many of their ad campaigns are focussed around happiness, with one of their most successful campaigns being the long-running 'taste the feeling' campaign, which carries the 'Open Happiness' tagline.
Looking ahead
With the 2019 Super Bowl just around the corner, we predict that brands will invest heavily in campaigns this year in order to convey hilarity, nostalgia, and happiness in ads. During last year's ad breaks we saw many brands use Hilarity to convey their messages to viewers. However, this year we predict that there will be a shift to focus on leaving audiences with longer lasting feelings of Happiness, rather than just a quick laugh.
Keep an eye out for our analysis of this year's Super Bowl ads, coming soon. You can also check out our post on 2018 – a year in emotions for more of an in-depth analysis on what emotions brands chose to evoke in 2018.
Click here and fill in the form to get in touch and find how our emotional data sets could help supercharge your advertising campaigns.
This article is part of our Emotions Uncovered: Happiness fortnight. For more articles click on the banner!