3 Key Takeaways From Our Super Bowl 2017 Video Impact Study
Super Bowl LI was less than three months ago, but advertisers and marketers are already thinking about their 2018 campaigns.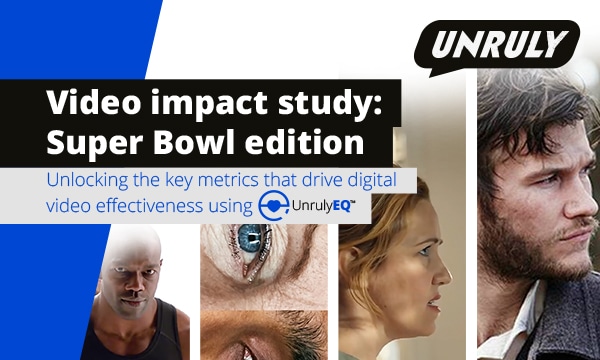 So to help you make the most of the big game's big opportunity, Unruly has analysed the overall effectiveness of this year's Super Bowl ads.
As well as insight into individual ads, our Super Bowl LI Video Impact Study also reveals some interesting stats about the changing viewing habits of audiences, and the types of content that resonate most strongly around the Big Game.
It also shows that Super Bowl 2017 ads were more likely to engage older audiences, with average scores from our content testing tool Unruly EQ – which analyses ads' emotional, social and business impact – 16% higher than those recorded by younger viewers (18-34).
There's quite a lot to dig into, so to get you started, we've pulled out 3 key takeaways.
1. Don't assume everybody's watching
Despite the Super Bowl being one of the biggest sporting TV events of the year, 23% of Americans claimed they don't watch the live game at all. Be sure to launch a multi-platform campaign across digital channels to avoid coverage gaps and reach audiences that might not tune into a TV event.
2. Make sure people know who you are
Super Bowl LI ads had an average brand recall of 64%, compared to the norm of 73%. This a major problem, as the quality of your ad doesn't matter if no one can tell it's your ad. Be sure to incorporate your branding, product or logo into the creative – and don't worry too much about putting off viewers. In fact, research from Karen Nelson Field's book Viral Marketing: The Science of Sharing suggests branding has no impact on whether or not an individual will share an ad or not.
3. Get emotional
Hyundai's 'A Better Super Bowl' was crowned our most effective 2016 Super Bowl ad because it managed to trigger 8 out of the 9 intense emotions we measure – resulting in the highest EQ score by some margin! Incorporate advanced testing into your process to identify the emotions that are connecting with audiences.