Join us in counting down to 2019!
Christmas is coming
New Years will be here soon
Unrulies all around the world
Are singing festive tunes
Hamburg has such icy streets
New York is full of snow
Singapore is sweltering hot
And in London cold winds blow
The countdown to 2019 has begun
And to mark this time of year
We've launched the adtech calendar
To bring in Christmas cheer
So check back daily for adtech news
predictions, stats and fun
And very soon work will be over
And 2018 will be done
Across the globe Unrulies have worked extremely hard this quarter. Take a look back on some of the amazing things we've achieved over the past three months! 
Culture plays heavily on how ads are received by audiences around the world. Our Insights team have analyzed this year's John Lewis Christmas advert to find out how it resonated with viewers in the UK! Click here to check out the results!
Insight of the day: The top 5 emotions evoked through ads in the entertainment industry are happiness, amazement, inspiration, warmth, hilarity and exhilaration.
We are on the hunt for an enthusiastic Campaign Manager to work with the Global Operations team to run online video campaigns via multiple demand-based technology platforms, developing a strong understanding of auction based media and complex targeting to assist with building out and delivering best in class RFP responses. The position will be in our New York office, to find out more click here!
Meet Tom, Qaiser, Ina and Julien, they all work in our ProDev team in London. Click on any of the images to find out more about what they get up to at Unruly!
Our CCO APAC, Phil Townend, gives us his 2019 prediction.
"2019 is going to be the year we start to see shoppable video. Finding out product information and making a purchase straight from an ad will be the new CTR. Google launched video into its Showcase Shopping ads in September, and it won't be long before shoppable video becomes a mainstream format. US studies show that 80% of millennials refer to video when making purchase decisions, so the value of shoppable video is obvious."
"For agencies and brands, it will evolve KPIs, but it will take a while for these to settle down. For audiences, it means a greater number of interactive ads. The implication is that clients will need a better understanding of viewer behaviour, needs, and emotional data in ad content."
Earlier this year we announced the formation of the U7, a brand and agency-powered council designed to engage the advertising community in discussions around emerging trends and the health of the industry, as part of our mission to lead the charge in cleaning up digital marketing.
The first meeting, subtitled 'Hearts & Minds', was held in New York and explored the role that emotions and trust play in the future of advertising. Special guests brought their own expertise and insight to the event including award-winning CMO Dana Anderson, Matt Murray, Editor-in-Chief of The Wall Street Journal, consultant and digital guru Rob Norman, and Brian Wieser, Senior Analyst at Pivotal.
According to our UnrulyEQ data, evoking happiness in ads works best in India with a prevalence score of 29%, closely followed by Mexico with 25% and then Brazil with 19%. Check out the prevalence scores for each of the three countries in the map below, and see how they compare to the global average.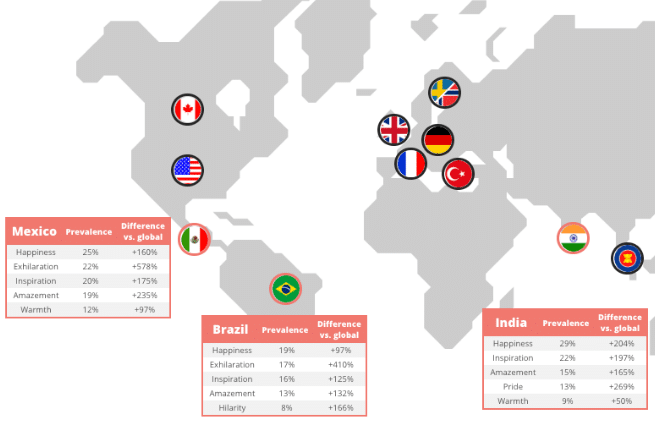 We have some really exciting news to announce! Our Futurist Elena Corchero has been announced as a TechWomen 100 winner! She was shortlisted last month alongside three other Unrulies; Gel Godsby, Mariya Petkova and Jade Vincent. A huge congratulations to the women who were shortlisted, and Elena who made the list alongside innovative women from companies including Deloitte, Barclays, BP, IBM, Paypal and TFL. Check out the full list of winners here.
In November in London we ran our second UK Trust Talks event entitled The Great Programmatic Debate! The event saw advertisers, publishers and brands from across adtech discuss the opportunities and problems that programmatic is facing. In this recording taken live from the event, you can listen to the buy side panel discuss programmatic guaranteed, bid caching and shading, 1st vs 2nd price auctions, and initiatives that have changed the way traders buy, including ads.txt.
We've launched our new A-Z of adtech series where we'll be bringing weekly stories inspired by an industry term from each letter of the alphabet. Click here to check out our first one now on App-adds.txt! 
Check out these photos of the incredible Unruly stand at this year's DMEXCO in Germany! Keep an eye out if you're heading to the event next year, as we'll be doing something even more amazing!
Do you consider yourself an adtech addict? Think you know your CMPs from your DSPs? Then give our Adtech Quiz of the Year a go and see if you can beat the high score!
We're on the hunt for an Account Executive to join our team in Chicago. Responsible for creating buzz, excitement and driving revenue for our video platform with your client base (brand marketers, media agencies, and agency trading desks). We're looking for someone with an outstanding track record in digital ad sales and a passion for online video to help us rapidly drive our video business forward in the US! Interested? Click here to find out more.
This year, in the UK the supermarket chain Iceland released a controversial Christmas campaign entitled Rang-Tan's Story. Even though the ad was banned for being too political it really resonated with audiences, was shared 62% more than other ads and had 90% more brand favourability than the average UK ad.
If you haven't seen it yet here it is, tissues at the ready…
"63% of consumers worldwide trust companies more when they are clear about how and where their data is used."
This year GDPR changed the way companies handle consumer data within the EU, and had huge repercussions for businesses across the world. In a study we surveyed 4,000 people globally about their understanding of GDPR, whether they trusted brands, and who they thought should access their data. Check out the findings and our analysis by downloading the white paper here.
Earlier this year our CEO Norm Johnston spoke at the Cannes Lions festival on measuring the value of creativity, how he sees it changing over the next ten years and what it means to him.
When Christmas comes around it seems like we always get into the same argument here at Unruly over what is the best holiday ad of all time? Well to end these arguments once and for all we ran all the biggest holiday ads of the past few years through UnrulyEQ to find out which ads resonated best with their audiences and the results are in!
5 – John Lewis' Buster the Boxer
4 – Bashlan's Das ist Weihnachten
3 – Petrona's Chinese New Year
2 – Duracell's Battle for Christmas Morning